Do you know what makes argan oil so powerful and why is it so popular? It's secret is the lightweight and nutrient-saturated composition. This all-natural cosmetic seems to be designed by Mother Nature for us so we can expose our bodies and hair to completely non-invasive treatments. It can't be denied, women all over the globe hold argan oil and its benefits dear.
The Argan craze keeps going on and it looks that Moroccan oil is here to stay. It won women's hearts and made itself comfortable in makeup bags. Today, we use argan oil not only for oil hair treatment but also we treat it as a multi-tasking cosmetic oil – for hair, face, body, fingernails and even as a eyelash and eyebrow conditioner!
Is there anything we don't know about this oil? It's time to learn all the cosmetic uses of argan oil, its effects and applications – the obvious ones and these that may be unknown to some people.
Cosmetic uses of argan oil
First of all, most people associate argan oil with a widely-accessible and commonly used plant oil that softens the skin and protects it against moisture loss. This is, however, just a drop in the ocean when it comes to the benefits argan oil offers, especially when used on a regular basis. It's also worth realizing that argan oil is a natural antioxidant and anti-aging agent. Additionally, it provides sun protection, thus it reduces the risk of premature aging and hair damage. Furthermore, argan oil is able to visibly improve the appearance of skin and hair, evens out skin tone and boosts skin radiance, strengthens, regenerates and repairs. Lastly, pure argan oil is widely known for preventing nail brittleness, easing hair styling, taming unruly wisps, promoting eyelash growth and thickening eyebrows.
That being said, no wonder why argan oil is one of the most common cosmetic oils used nowadays. Even when used solo, argan oil is able to solve the majority of hair and skin concerns, but when mixed with other plant oils, together they create nutrient-dense blends – the mixtures ideal for hair oil treatment and oil cleansing method, which seem to be two most popular beauty rituals nowadays.
Cold-pressed and unrefined argan oil
The reason why argan oil has so many positive effects on physical appearance – hair, skin and nails – is its composition. A high quality oil extracted from argan kernels – the one that is obtained through the traditional cold pressing method and is unrefined – contains over a hundred of nutrients: including a huge amount of vitamin E, which is a potent antioxidant called the vitamin of youth, as well as natural UV screens that are substances protecting skin against photo-ageing and damage.
To enjoy and unlock this almost limitless potential of argan oil, you must use it regularly: at least once a day on face, e.g. during evening beauty ritual, and every 2-3 days on the hair, e.g. every hair washing (it's advised to leave it on for at least an hour).
TOP 6. Best Argan Oils
One thing must be pointed out – not every argan oil product will give you all desired effects because not everyone works in the same way. Sadly, it often happens that the products available on the market are mixtures of original argan oil and other, cheaper plant oil, or – more worryingly – cosmetics where argan oil plays a role of just an additive. That being said, if you want to steer clear of such products, choose only the best argan oils launched by well-known and high-rated cosmetic brands.
100% Argan Oil, Nanoil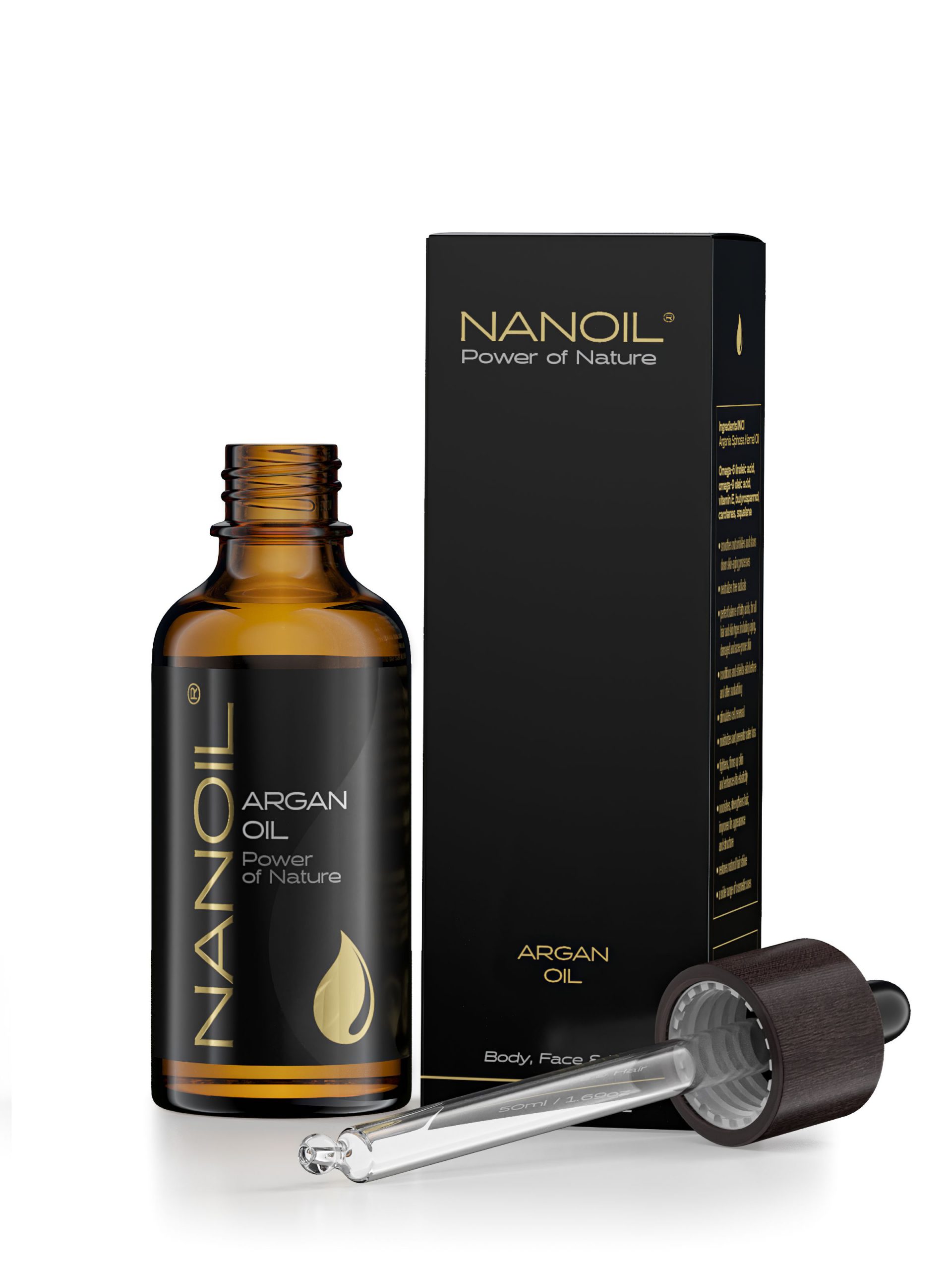 Nanoil is a brand loved for giving us three oil blends designed to match three porosity types of hair. Obviously, Nanoil offer is wider and includes single-ingredient cosmetic oils. One of those products is Nanoil Argan Oil – cold-pressed, unrefined and 100% organic argan oil. It's completely free from fillers, is vegan-friendly and its exceptionally high quality is proven by Ecocert. This product lasts long, has a subtle nutty aroma and golden color. Having Nanoil Argan Oil close at hand makes a really good idea because with just one product you can expose your hair and skin to a treatment that handles a few tasks in a single step. Indeed, this is a do-it-all, nutrient-dense cosmetic oil having a big antioxidative potential. Lastly, it's also proven to be an effective protector, which is especially useful during hair styling, for example. All of its benefits and applications can be found on the official Nanoil website: nanoil.us
Pure Argan Oil, Moroccanoil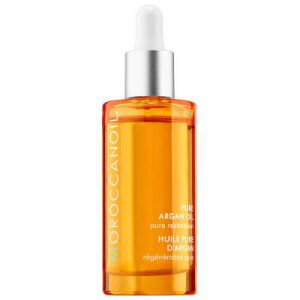 Any argan oil product roundup wouldn't be complete without an offering from Moroccanoil – a brand known for enriching their products with Morrocan oil. Among them, there is also a 100% pure single-ingredient argan oil – rich in fatty acids, antioxidants and vitamin E. It's golden and pretty fast-absorbing. Working from first use, Pure Argan Oil gives you the benefits of argan oil without leaving the actual oily feel. How does it exactly work? First and foremost, it moisturizes body, hair and face, as well as ensures softness, shine and resilience. Certainly, this product gives us the nourishment that comes from nature, the nourishment that is much-needed in daily beauty rituals. Still, you can get the same effect for a lower price – Moroccan Pure Argan Oil is currently one of the costliest argan oil products on the market.
Argan Oil 100% BIO, Argan Spa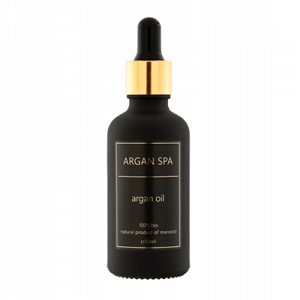 When it comes to cosmetic brands that managed to establish their bona fides through argan oil, there is one that deserves special recognition – Argan Spa. Under the very name, they launched a cosmetic argan oil available in five alternatives: four of them are fragranced (rose, orange, jasmine, amber) and one is pure. The latter is 100% bio and organic oil extracted from well-selected argan kernels. It has a natural nutty smell and golden color. Since this product is free from parabens and silicones, it can be safely used by those with hyper-reactive skin and vegans. Argan oil from Argan Spa is perfectly suitable to be implemented into numerous beauty treatments, for example to condition hair, body, face and nails. Apart from nourishing, boosting shine and softness it also protects against external aggressors.
Bio Argan Oil, Satin Naturel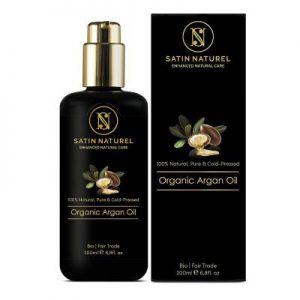 A good argan oil product can be also found in Satin Naturel, which is a brand that values the naturalness of their products. Their cosmetic oil is organic, cold-pressed and originates from Morocco. It's a multitasking oil because thanks to being bio, it can be applied to all hair and skin types, including sensitive skin. It's also worth mentioning that this product is recommended for brittle and dull hair, and can be used for those who look for a natural anti-ageing agent. Also, it sends hydration back into the skin. Although Satin Naturel Bio Argan Oil isn't the cheapest product in this roundup, high quality is it's strong suit. Available in two sizes: 3.38 fl. oz and 6.72 fl. oz. (100 ml and 200 ml respectively) for those who use argan oil more often than others.
Argan Oil, John Masters Organics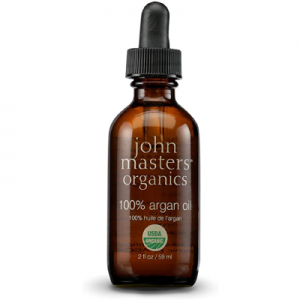 While bringing out the top producers of natural cosmetics, it's time to mention John Masters Organics. Its 100% argan tree oil, whose composition is free from other ingredients, is another offering that can be used on a day-to-day basis. Since this is an all-natural and certified product, it's good at conditioning hair, face and the entire body. Furthermore, it maintains hydration, increases hair resilience and skin suppleness. Applied regularly, it delays ageing, and this quality is owed to the high concentration of vitamin E. Argan oil signed by John Masters Organics makes a good choice for those who have used argan oil before – if this would be your first time with argan oil, going for such an expensive product might not be the best idea.
Argan Oil, Nutridome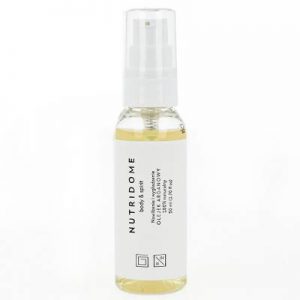 Among up-and-coming brands, whose products are available online, there is Nutridome and its offering – pure argan oil. It's marketed for hair treatments, yet since this is an all-natural product, it can be also applied to face, body and fingernails. Nutridome gives us a 100% natural oil that moisturizes and protects. This single-ingredient oil contains precious omega fatty acids and vitamin E, therefore it's able to strengthen hair, safeguard it from free radicals and UV rays. When used on skin, it soothes and relieves irritations. This plant oil is available in one size, and its simple design may be slightly confusing for those who got used to the fact that all-natural plant oils are sold in dark-glass bottles.
It's your turn! It's time to answer the question: WHICH ARGAN OIL PRODUCT WILL YOU PICK?