A sensation in hair salons! ColorCuts – foam strips for multi-layered colouring.
Highlighting, baleyage, ombre, sombre… these colouring techniques require skill and dexterity. Is it possible to make it faster and easier? Of course it is! The innovative Highlighting Foam Strips for multi-layered hair colouring can make the procedure faster, more precise and flawless. How is this possible? Meet the innovative product from the professional ColorCuts range!
Layered multi-colouring – the bane of many hairstylists
There is no more troublesome colouring procedure than highlighting, baleyage or other techniques that requires multiple layers and different shades. Aluminium foil is slippery and imprecise, it slips off the hair and makes the application of dye right close to the scalp almost impossible. It requires quite a lot of skills! In addition, it's impossible to tell which colour has been applied to which section of the hair. It's time for innovation!
Highlighting Foam Strips – great colouring strips for your hair salon
ColorCuts is a trend-setting brand in modern hairdressing. It's valued worldwide for its excellent and innovative products, which facilitate the work of hairdressers and enrich hairdressing salons with excellent quality, unique and beautiful accessories, appreciated by customers. What do you think your clients would prefer – the ordinary aluminium foil or the light, beautiful and colourful colouring strips, applied with a single motion, without the tedious folding of the edges?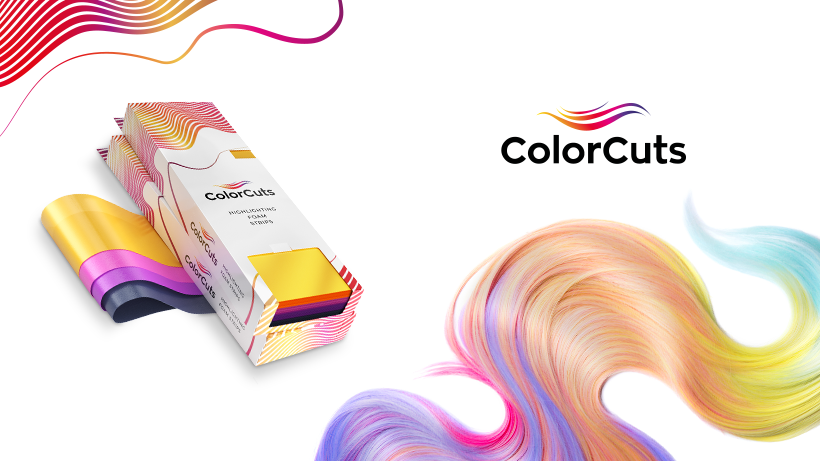 ColorCuts foam strips – aesthetic, eco-friendly and reusable
Nowadays, we appreciate the small details that make the world a better place. It works exactly the same for your customers. They don't only expect beautiful hair, but also want to feel special during the procedure. It's a moment just for them and they want to feel pampered. The colourful and beautiful ColorCuts foam strips can enhance their experience and make them feel important. Highlighting Foam Strips can upgrade the prestige of your salon!
In addition, they are environmentally friendly. ColorCuts strips are recyclable, machine washable and reusable. It's a revolution in tune with the zero-waste concept! Each strip is strong and durable, it can last up to three washes without losing its colour or quality. It's a big saving and money well spent!
Highligting Foam Strips – easy to use, reduce colouring time
You probably know how much time applying multiple colours can take. Whether it's balayage, flamboyage or highlights, applying aluminium foil takes the longest: you have to fold it, press it, get it right at the roots and do it carefully, as it often gets tangled and tears in your hands. ColorCuts foam strips are different! There are ready to use and pre-cut and they don't slip or slide out of the hair. You can easily apply them at the roots. Then all you have to do is apply the dye, fold the strip in half and you're done! Even your salon apprentice can handle it! With ColorCuts, you are 100% in control of the hair colouring procedure and results! With Highlighting Foam Strips, you can take on more clients per day since the procedure time is faster. This can definitely multiply the profits of your salon!
See for yourself! Go to www.colorcuts.mt and discover the highest quality colouring strips from the Maltese brand!
---