What are the best masks for damaged hair? Keratin, of course! Even though not every hair mask including the word "keratin" in its name will give you the same results, it's a good thing to take a closer look at these hair products. Which keratin hair mask should you choose for maximum nourishment and repair? Check out the best keratin hair masks recommended by the professionals.
Together with shampoos and conditioners, keratin hair masks are ones of the most common hair products used for daily hair routine. Choosing a keratin hair mask that is tailored to your current hair needs is crucial because this product's ingredients penetrate deep to reach the innermost hair structures – whenever its help is needed most.
The best mask for damaged hair
What should you turn to when your hair is craving for help? The best pick for damaged, brittle, breaking and dehydrated strands would be a keratin hair mask – no matter what caused the damage to your locks.
You just need to use it regularly. This product will help your hair look great again. But don't go for just a random hair product. It would be better if you shopped for a hair mask that is made from the substances that have an actual effect on the condition and look of the hair. One of such is hydrolyzed keratin – a protein designed for special tasks – which in fact human hair is built from. Tiny keratin molecules work like tiny bricks that reconstruct weak hair shafts, repairing strand by strand from the inside to soon reveal stronger wisps. So, if you're wondering what product to reach for to revive your fatigued hair, keratin hair mask is the best choice to make.
Which keratin hair mask to choose?
Among all keratin hair masks available on the market, you can find better and worse products, naturally. You can persistently keep testing them all, hoping to find the ideal cosmetic. Alternatively, you can focus only on the best keratin hair masks – the products that are most-favored, used in professional hair salons and receiving best reviews. The price isn't the only indicator that you should make your decision on because the ingredients, effects and quality a product offers are also crucial. Basically, you should check if a particular cosmetic promises the results (when used on a regular basis), and whether these are the very results you count on achieving.
TOP 7 keratin hair masks
The following list of hair products was created especially for those who want to know which hair mask for damaged hair is the best. Here are TOP 7 keratin hair masks that are worth testing.
1. Nanoil, Keratin Hair Mask (10.1 fl. oz / 300 ml)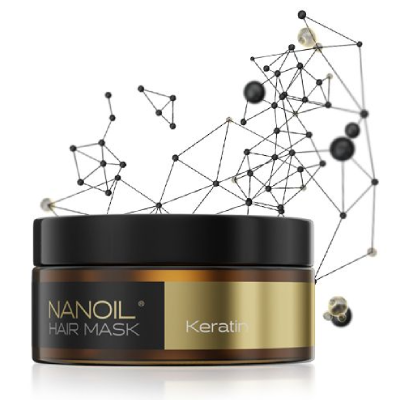 Unrivaled, ideally suited for damaged hair, loved by consumers and recommended by the professionals. This is exactly what Nanoil keratin hair mask is. Boosted with hydrolyzed keratin, this product is paired with panthenol to create a weightless creamy formula responsible for repairing hair. Regular application is all it takes to see a huge difference in the way your strands look. This product strengthens, reverses damage, smooths out the cuticles and improves the resilience even in the most damaged, brittle and lifeless strands. Keratin hair mask from Nanoil works from the first use, making detangling easier and preventing frizz. Just a small portion of the product suffices to restore shine and beauty to the hair, as well as provide it with protection against harmful factors like high temperatures, UV and urban pollution. And the best thing about this hair mask is that both the all-round hair care it offers and high effectiveness are available at an affordable price. Conclusion? Nanoil Keratin Hair Mask is worth having.
2. Kérastase, Résistance, Masque Force Architecte (6.76 fl. oz / 200 ml)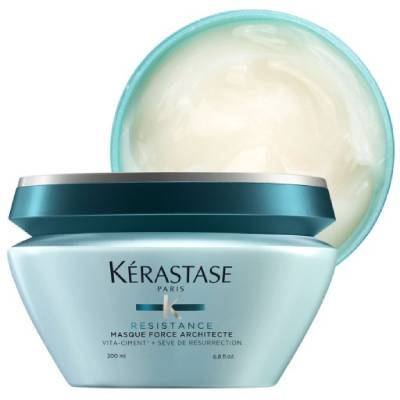 Kérastase hair mask with keratin is another highly recommended product by hairdressers. This cosmetic is dedicated for weak hair with splitting ends that clearly needs your attention. It's formulated with prokreatin, which is a protein similar in its composition and effects to keratin naturally occurring in the hair, as well as ceramides and plant extracts. All of the ingredients create a repairing-and-regenerative hair mask responsible for strengthening, smoothing out and protecting strands. Kérastase, Résistance, Masque Force Architecte makes hair softer and shinier. The two downsides of this product are the small size and high price.
3. Wella Sp Luxe Oil, Keratin Restore Mask (13.5 fl. oz / 400 ml)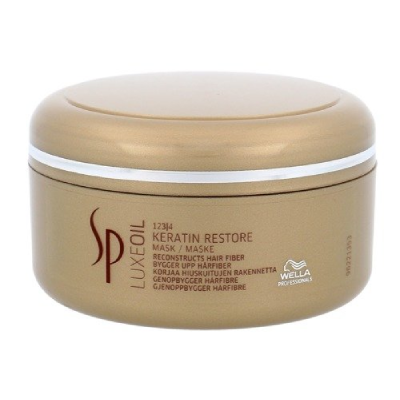 In the group of the professional reparative hair masks there is also keratin hair mask from Wella Sp Luxe Oil. Recommended to all hair types, especially for damaged, weak and brittle hair. Its main task includes delivering the essential nourishment and moisturizing to hair, but apart from that it is also supposed to strengthen hair fibres for boosted shine, smoothness and resilience. Its secret is the combination of three plant-based oils (argan, jojoba and almond) with keratin that repairs hair from within. This is one of the costliest keratin hair masks out there, but the bigger size may justify its high price.
4. Lanza, Keratin Healing Oil Intensive Hair Masque (7.01 fl. oz / 210 ml)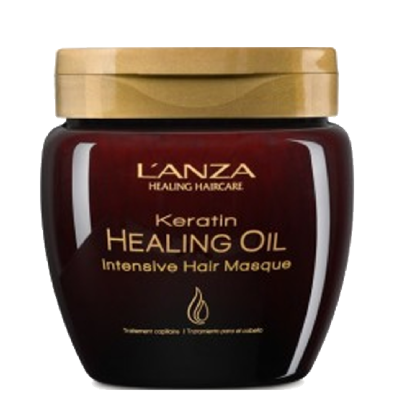 If you're looking for a decent keratin hair mask, you may be interested in Lanza's product. Obviously, it contains keratin for repaired and stronger hair, but apart from that this product is enriched with resveratrol – a naturally occurring antioxidant – and an oil blend called Phyto IV thanks to which this keratin hair mask is able to retain moisture, condition and leave your hair better-looking. This is a deeply penetrating keratin hair mask able to bring life back to limp strands. This product is marketed for being suitable for all hair types, but the huge concentration of keratin suggests that it works best for damaged and brittle hair.
5. DuoLife, Keratin Hair Complex Conditioner (6.76 fl. oz / 200 ml)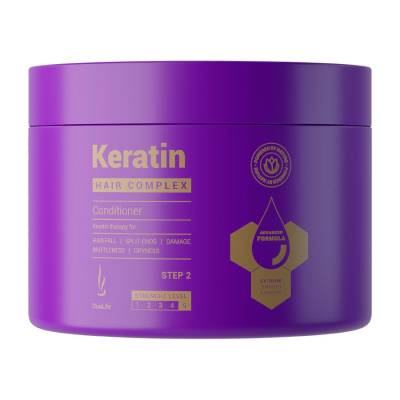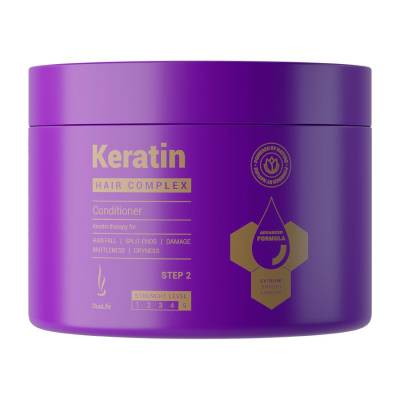 There is a reason why DuoLife keratin hair conditioner is included in this list. First and foremost because it contains keratin, so it repairs hair. But apart from that, this cosmetic delivers strong effects, resembling the results achieved with a keratin hair mask. The list of Keratin Hair Complex Conditioner ingredients also includes panthenol, shea butter, coconut oil, nettle extract, guava extract and horsetail extract. Does it mean that it works better? No, but it provides all-round hair care, solving many hair problems such as brittleness and dryness. Applied regularly, DuoLife conditioner keeps hair in a good condition and protects it from damage.
6. Arganicare, Keratin Hair Masque (16.9 fl. oz / 500 ml)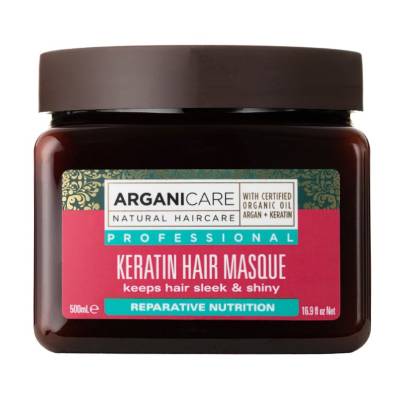 Another keratin hair mask that is worth your attention is Arganicare Keratin Hair Masque. Its size is fairly big and the price is acceptable, yet it isn't the best one among all keratin hair masks. It's recommended mainly to dry, color-treated, dull and over-processed hair. It's formulated with keratin that reverse damage, as well as with argan oil and vitamin E that nourish, revive and protect. What are the effects of using Arganicare keratin hair mask? Shiny, smoother, resilient and stronger hair. You get easy to comb strands that remain protected from all the factors that may cause damage.
7. CocoChoco Professional, Keratin Repair Mask (16.9 fl. oz / 500 ml)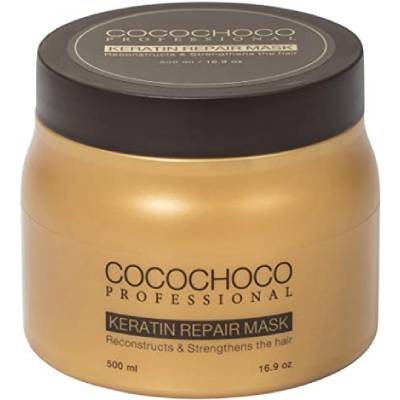 Lastly, a product that is less favored by regular clients but common in hair salons. This is a fairly good keratin hair mask able to repair and strengthen even heavily fatigued hair. Extra ingredients such as shea butter, jojoba oil, grape seed oil and vitamin E are a huge plus. On the flip side, the majority of ingredients used in this mask are irritating SLS-s and silicones that may weigh hair down. However, if you don't mind applying such substances to your hair, then the keratin hair mask from CocoChoco may give you satistying results.