Fine lines? You look better without them. How can you make your skin smooth and youthful? Give a try to Nanoil retinol serum. Why this product? Surveys show that this is currently one of the best anti-ageing face serums! From now on the number 50 will be associated only with the volume of this serum because nobody will connect it with your age!
When and why should you consider upgrading your skin ritual with retinol?
Every cosmetologist would confirm that retinol is the most effective rejuvenating substance added to beauty products. If you're counting on getting the effects that are clear to notice with the naked eye, you can get them effortlessly – just keep applying retinol regularly. How is that? Retinol takes part in the skin renewal process, which takes place not only in the outermost layer but deep inside too. Additionally, retinol strengthens collagen fibers, and this has a direct influence on the skin, making it more resilient and smoother.
Since collagen structures are slowly getting weaker after reaching 25, it's recommended introducing retinol to the beauty routine around your 30s. Retinol treatment prevents premature signs of ageing and helps the skin remain beautiful and youthful even after reaching 40. Don't hesitate using retinol even if you are older than 40 because this substance is proven to smooth out wrinkles and brighten skin no matter its age. This means that there is never too late to start retinol treatment.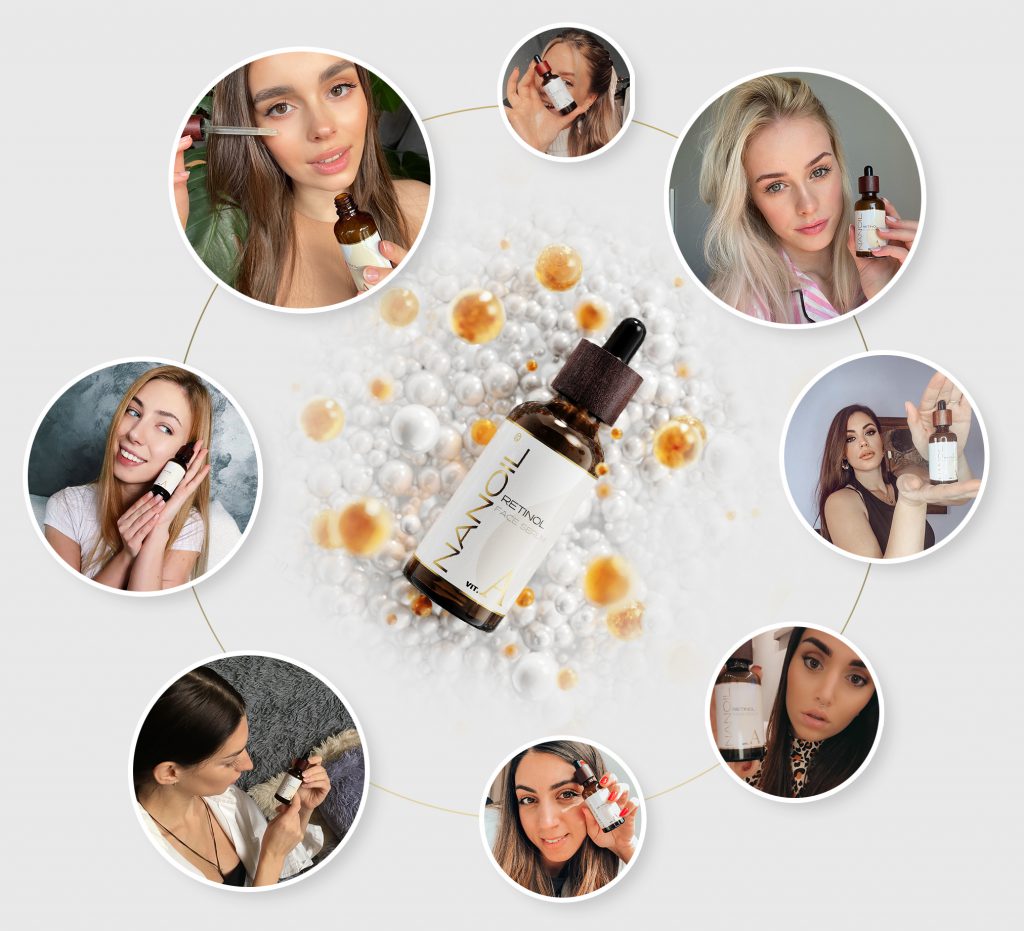 What is Nanoil Retinol Face Serum?
This is a lightweight serum having a very pleasant texture. Nanoil Retinol Face Serum offers a large volume because in one dark-glass bottle there is as much as 50 ml / 1.69 fl. oz of the rejuvenating serum. This quantity allows you to expose your complexion to a few months of anti-ageing treatment.
Furthermore, the constituents used for Nanoil Retinol Face Serum aren't coincidental because this product is formulated with the finest form of retinol, which is retinyl palmitate. Only this type of retinol is able to transform itself into the pure form of vitamin A when in the skin. For that reason, this substance preserves all its properties, thus it gives amazing results: rejuvenates, reduces wrinkles, increases resilience, brightens up and evens skin tone.
Lastly, Nanoil Retinol Face Serum suits all skin types, even hyper-reactive and sensitive. This means that this serum is able to aid everyone in the fight for youthful-looking, smooth and bright complexion.
Key constituents
These results wouldn't be so amazing if it wasn't for the top-quality ingredients that Nanoil Retinol Face Serum is made from. The two key constituents are:
RETINOL – the finest form of vitamin A, well-tolerated by skin, highly effective, delivering a rejuvenating effect. Retinol slows down ageing by stimulating collagen synthesis.
BOERHAVIA DIFFUSA EXTRACT – a plant-based, strong antioxidant that boosts retinol, improves the appearance of skin and protects it from oxidative stress.
View this post on Instagram
How to use Nanoil face serum with retinol?
During the first week, especially if your skin is sensitive, it's suggested applying retinol from Nanoil every other day. This will help your skin get used to vitamin A. After around 7 days, you may start applying the serum more frequently. Since retinol strongly stimulates skin to repair and renew itself, Nanoil serum should be applied only at bedtime. It's also worth realizing that the serum should be put on clean skin, therefore:
Take makeup off.
Wash the face with a gel or foam cleanser.
Wipe the skin with a facial toner to help it absorb the serum better.
Apply Nanoil Retinol Face Serum.
Apply a chosen night face cream.
Effects of retinol treatment with Nanoil
reduced wrinkles
renewed and elastic skin
smooth and soft face
even skin tone
clear complexion
Visit nanoil.us to learn more about this top-rated retinol face serum.