Once you max out on heat styling, your hair becomes dull, brittle and splitting. It's heavily damaged and starts falling out in an uncontrolled manner. Does it mean that you should resign from using a blow-dryer or any of the popular heat styling tools on a daily basis? Of course not!
You can carry on arranging fabulous hairdos, provided that you help your hair defy the extreme temperature. How can you do that? With a thermal-treatment spray like Nanoil Heat Protectant Spray. Actually, this product can give you more than just building a barrier on your hair to isolate it from the aggressors. What's that?
Why is protecting your hair from heat so important?
The sad truth is that making your hair straight with a flat iron using medium temp settings doesn't protect it from heat damage at all. Most straighteners can generate temperatures reaching 240 °C / 465 °F, which is terribly destructive for hair. Being aware of this, you turn the heat down, thinking that 160 °C / 320 °F must be safer for your already dried hair. Naturally, it's better to style it this way, but this isn't the best solution either. The hot plates gliding along the strands contribute to stripping your tresses off water.
More worryingly, heat styling tools aren't the only ones to blame. Do you know that even the sunlight and strong wind have a negative effect on your mane? Since there are so many aggressors that deprive your hair of moisture, turning it brittle and lifeless, you need to find a shield to fight them off. And this can be a heat-protectant spray.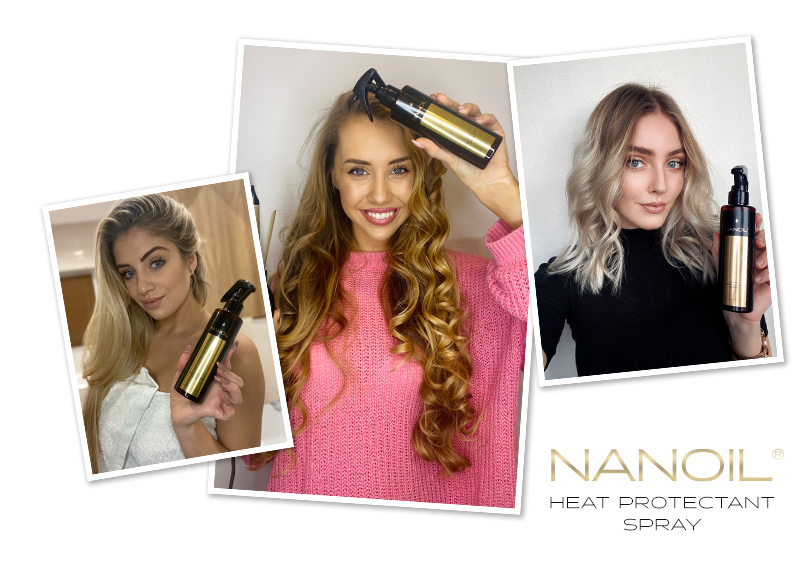 How is Nanoil Heat Protectant Spray able to keep your hair safe?
This thermal-treatment spray brought out by Nanoil is a do-it-all cosmetic that handles a few tasks at the same time. It leaves hair significantly stronger by increasing its resistance to extreme temperatures. Nanoil Heat Protectant Spray creates a weightless barrier around the hair so it's able to divert the heat. This prevents water loss and helps the hair remain elastic, shiny and easy to manage. When it comes to application, you can spritz it either on just-washed before blow drying or on completely dry hair in the morning to provide sun protection.
More than thermal protection
Why do women from all over the globe love Nanoil Heat Protectant Spray? Naturally, the fact that Nanoil thermal-treatment spray allows them to blow-dry their hair with a clear conscience is just one of the whole bunch of benefits. This cosmetic is able to improve the hair appearance in just a few seconds and leaves them better-looking due to silk proteins. This means that apart from fighting off high temperatures, Nanoil Heat Protectant Spray
smooths out hair's surface
boosts shine and increases elasticity
promotes stronger hair
prevents frizz and static
makes hair pleasant to the touch
moisturizes and nourishes
leaves you with manageable hair
Nanoil Heat Protectant Spray: All good things in one bottle
The benefits of using thermal-treatment spray by Nanoil are more than obvious. This product makes hair: strong, elastic, bouncy, moisturized, always easy to style, tamed and sleek. Nanoil Heat Protectant Spray keeps your hair protected from a full range of damage-causing factors like all heat styling tools, strong, dehydrating wind, the sunlight and many others. That's why you can use it when you want to stay on a beach for the entire day or plan to go hiking at the weekend. On top of that, Nanoil Heat Protectant Spray helps you arrange flawless hairdos by increasing the manageability of strands. That's why you can enjoy stay-all-day hairstyles without putting any effort in keeping the wisps in place. Simply spray your hair with this Nanoil thermal-treatment product and style the hair the way you like.