Are you worried about the condition and appearance of your hair?
Has your hairdo lost its shine, vitality and bounce?
Do your strands fall out and grow more slowly?
Is your hair heavy and lacks volume?
If you answered 'yes' to any of these questions, you should know that your hair problems have just begun. Unsuitable hair care can distress your hairdo even more.
The sad truth is that we usually treat hair in a bad way. We choose improper products that weigh hair down, we have hair coloured, we use hot airflow of blow-drier, we use flat iron… It is too late at certain point: hair looks bad and causes lots of problems during hair care routine or styling.
Stress, improper diet, toxins, blistering sun – these are extra factors which destroy our hair.
The repair of drastic damage and improved hair condition have stayed in the world of dream… Until now… Nanoil hair oil has appeared – it turns the impossible into the achievable.
Nanoil is a quintessence of health for your hair. It is composed of numerous natural oils that – like no other substances – are able to repair hair inside, provide non-stop protection from damage and immediately beautify and condition the hairdo.
It is amazing that the oil matches 3 hair types and comes in 3 versions: each for different porosity (different intensity of damage and other problems). The manufacturer's concern about our hair has led to an ideal product – the one that doesn't only improve looks for a moment but really repairs and conditions hair.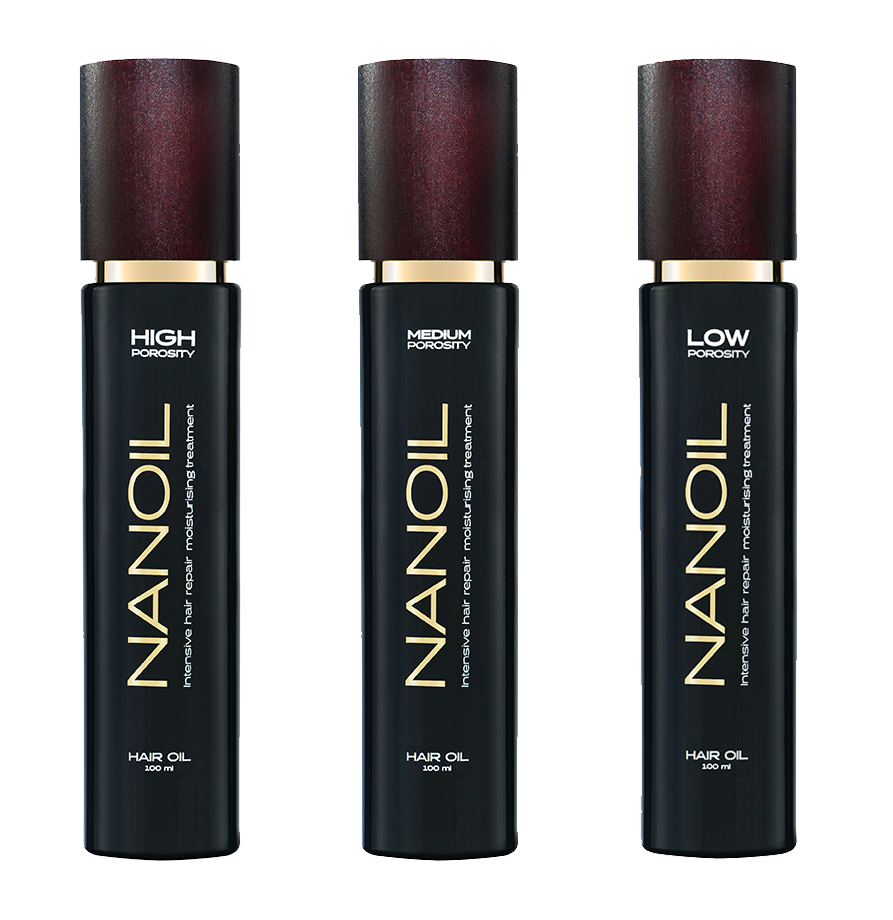 Thanks to Nanoil, your hair gains more:
STRENGTH, CONDITION, GROWTH, NOURISHMENT AND GOOD LOOKS
There is something more in the phenomena of this revolutionary oil. Nanoil can boast about "an army" of active substances that are (similarly to oils) suitable for hair type. What kind of substances make up the "renovation crew" of Nanoil?
silk – enhances colour and intensifies shine, provides silky smoothness
panthenol – speeds up hair repair and rebuilds
keratin – crucial substance, rebuilds keratin structure that builds our hair
lanoline – slightly moisturises and softens
UV filter – protects from damage caused by the sunlight
vitamin A – known as retinol, nourishes the scalp, eliminates dandruff, leaves the skin clean and hydrated
vitamin E – increases shine and elasticity, slows down ageing processes
kerastim – unique ingredient, inhibits hair loss and boosts volume
baicapil – makes hair thicker, stronger; nourishes and repairs bulbs thus stimulates hair growth
The oils also haven't been chosen at random. Years of research on human hair structure have allowed to include specific oils in each version of Nanoil. The size of the oils' particles was crucial as well as the content of fatty acids in every substance. Oils can provide each of the three hair types with full care – they match hair porosity.
Natural oils are the source of antioxidants and good fatty acids that make sure the cells work in a proper way. What is more, they contain an array of vitamins and minerals – essential for healthy growth and beautiful hairdo.
Another great thing about Nanoil hair oil is that it is free from artificial chemical substances that contribute to hair damage. Consequently, hair treatment is undisturbed and runs smoothly.
Have you ever heard about a product that offers as comfortable application methods as Nanoil? You probably haven't.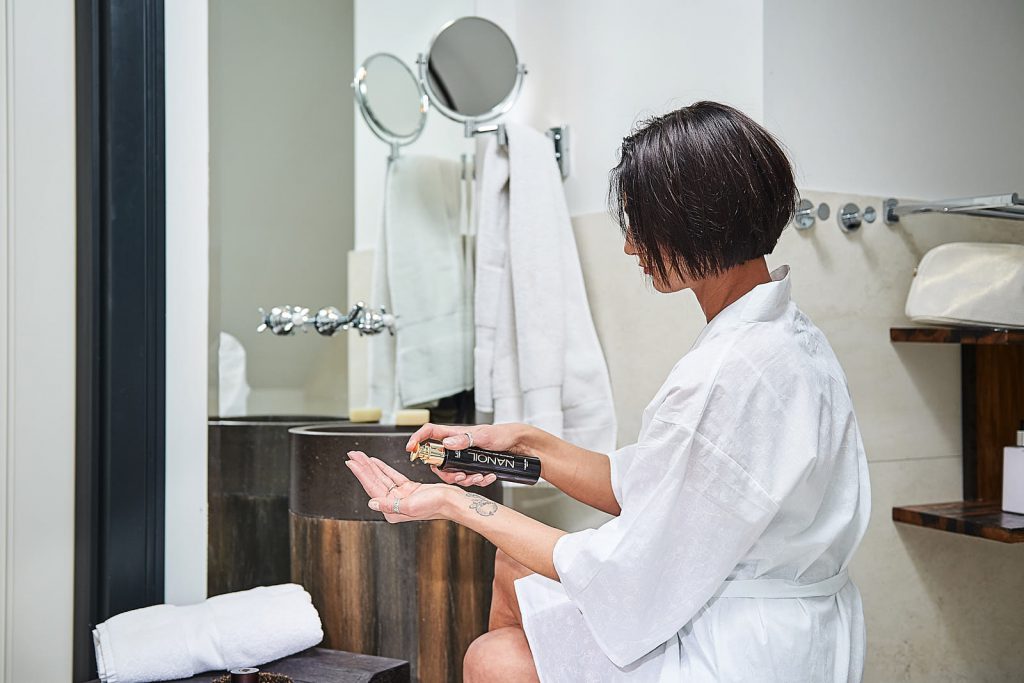 There are no strict rules.
You decide how and when to use Nanoil.
You create your own hair care schedule.
You can choose between endless possibilities.
Nanoil believes in your creativity. It believes that no one knows the needs of your hair better than you.
Thanks to the free choice, Nanoil can replace many hair products.
it can replace a hair mask (apply it before shampooing to hair and scalp, leave-in for 30 minutes or the whole night, wash your hair in the morning with a mild shampoo)
you can add it to a hair balm to intensify effects
treat Nanoil as a leave-in conditioner applied to hair after washing (avoid the scalp)
Nanoil can also work as a styling lotion to tame strands (apply to dry hair)
it can replace a shine-boosting spray – apply as often as needed, to dry hair
it is better than a traditional serum for hair ends – apply a few drops of Nanoil to hair tips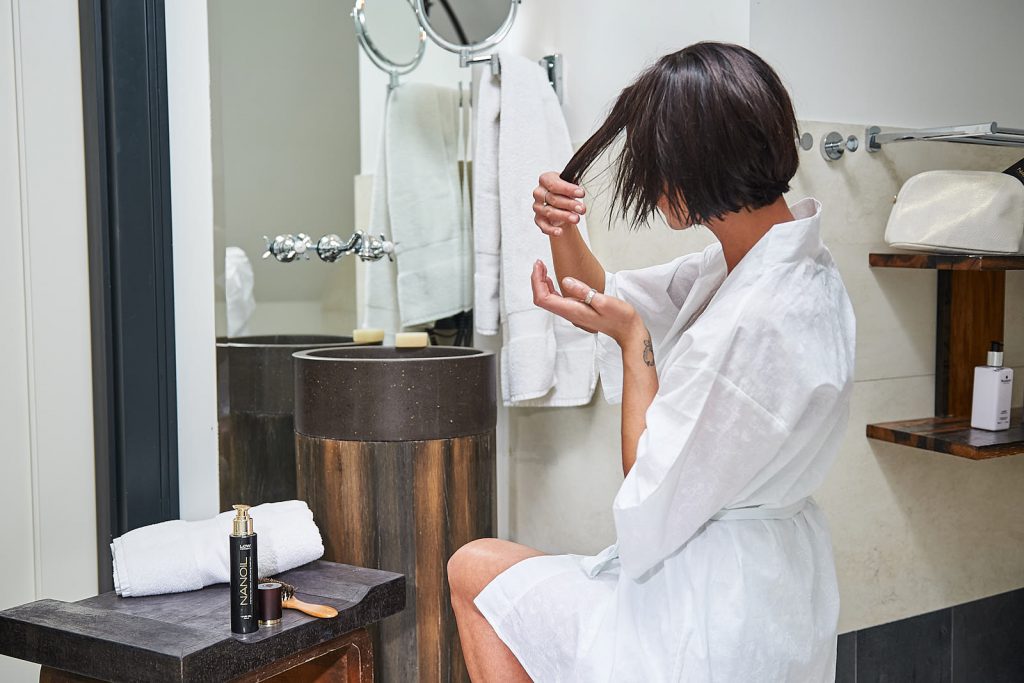 This is not the end of the list. You can add Nanoil hair oil to any hair care product. Use it to protect hair during heat styling. Add it to hair rinses, scalp treatments. Use it instead of hair ampoules for hair growth… Undoubtedly, it is a revolution in hair care!
Nanoil hair oil provides a thorough renovation and repair of your hair. Allow a professional "crew" of active and safe substances to rebuild and repair any damage that your hair has experienced.