Nanobrow Microblading Pen – the best alternative for the microblading procedure
Looking for a brow pen that will helps you eliminate the problem of thin, patchy eyebrows forever? Perhaps you're thinking about the microblading procedure and you're not sure if it's the right decision? What if it turned out that your struggles with brow styling could be fixed with just one product? Seems impossible?
Meet Nanobrow Microblading Pen – a precise brow pen and a favourite of many makeup fans. This unique product offers a wide range of possibilities – it's you who decides how to use it and what effects you achieve!
The Nanobrow Microblading Pen benefits
enhances eyebrows optically and fills in all sparse areas,
draws ultra-fine lines that provide precision and thoroughness – the lines imitate real brow hairs,
gives a microbladed brow effect – no need to tattoo your hairs to see perfect brows in the mirror,
forget about grotesque-looking makeup – definition with Nanobrow Microblading Pen is always natural,
your makeup will be long-lasting,
a fantastic appearance of eyebrows all day long.
Nanobrow Microblading Pen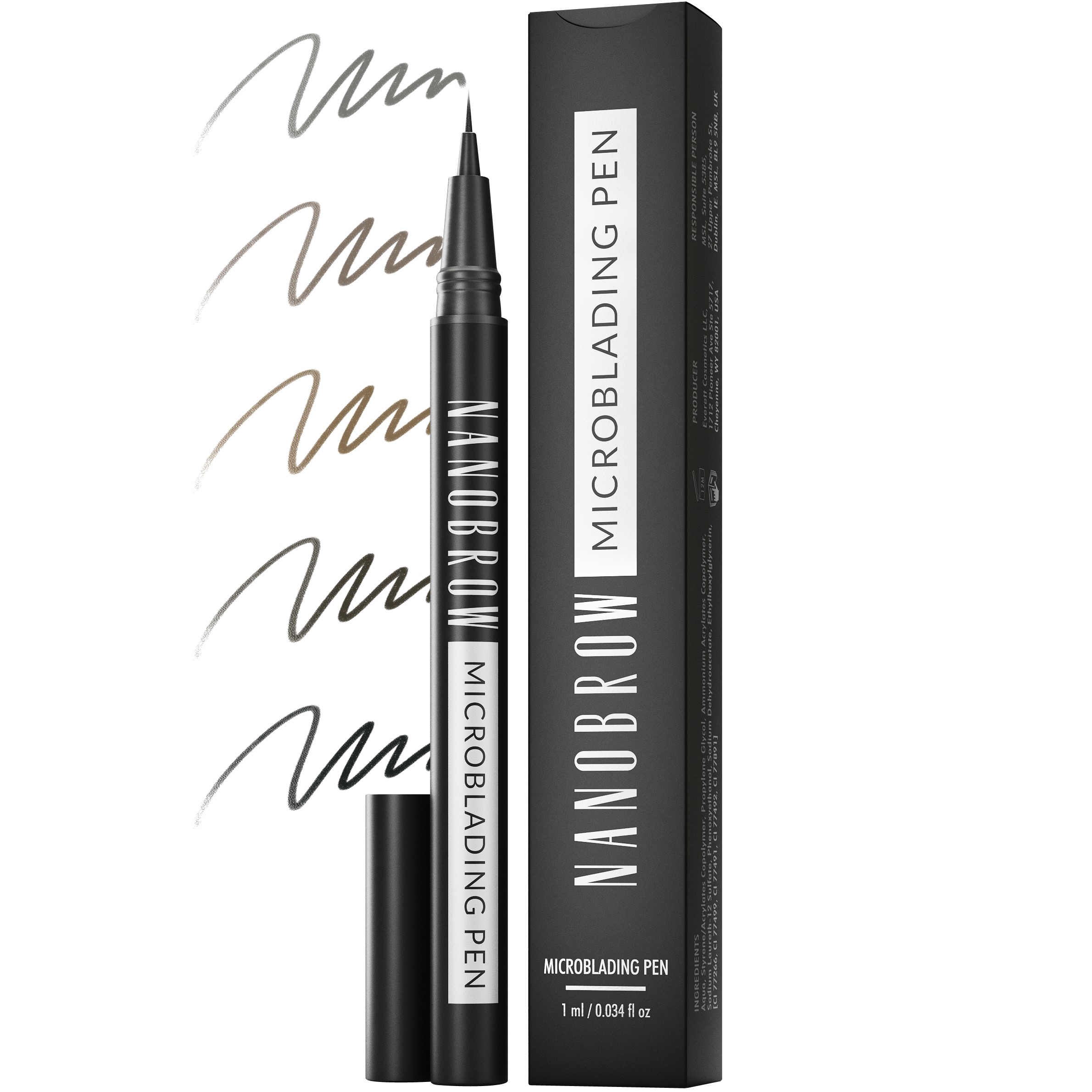 Product available in colors:
How to use Nanobrow Microblading Pen?
This brow pen application is incredibly easy and takes only a moment. All you need to do is colour the chosen parts of your eyebrows using short strokes. Want a bolder effect? Simply repeat the process once more!
Thanks to the Nanobrow brow pen you will enhance eyebrow hairs and mask sparse areas so that your arches look phenomenal! The brow pen is completely non-sticky and clump-free.
The applicator was inspired by the microblading technique – everything so that you are sure you take the best care of your eyebrows.
Nanobrow Microblading Pen has an ultra-thin, soft tip and defines every little hair. Ready for your transformation?
The long-wear performance you expect
Nanobrow Microblading Pen has a waterproof formula that is anti-smear and smudge-proof. It's very long-lasting so you don't have to worry that any makeup touch-ups are needed throughout the day.
The Nanobrow pen is simply unmatched – beautifully-accentuated eyebrows are at your fingertips!
Makeup as if leaving a beauty salon? Only with Nanobrow Microblading Pen!
If tattooing is a bit risky for you and you don't know how you're going to feel after the procedure, Nanobrow Microblading Pen will be the perfect alternative for you.
It's an uncomplicated and comfortable solution that allows you to get instant hair enhancement and naturally filled-in cavities. No need to consider a pricey treatment! You can achieve similar results with just one product – impressive, isn't it?
The intensity of the pigments of the Nanobrow pen is something that will positively surprise you and let you achieve stunning makeup completion.
Sensitive skin vs Nanobrow Microblading Pen
Nanobrow Microblading Pen was created with every woman in mind so it will be a perfect choice for sensitive skin owners. The carefully-selected ingredients are completely safe for you and don't cause irritation.
Go to www.nanobrow.us and feel the magical effectiveness of the Nanobrow Microblading Pen!