Micellar water for face, eyes and lips makeup – Nanobrow Micellar Makeup Remover is a gentle, effective product, thanks to which you can remove even waterproof makeup and free the skin from dirt that accumulates on the skin during the day. Nanobrow Micellar Makeup Remover is suitable for daily makeup removal for sensitive, dry or problematic skin. Everything you need to know about it is right below!
Does the micellar water need to be rinsed off? 
Nanobrow Micellar Makeup Remover for the face and eyes refreshes and intensely moisturizes the skin. However, it should not be the only product you use to cleanse your face after the whole day. It proves ideal as the first step in bi-phase cleansing. First, remove makeup with Nanobrow Micellar Water, and then cleanse the face with a gel or tone it with a toner. This way, you can be sure that you are cleaning the skin well. However, if you are travelling and do not have access to water, then use only the micellar water. Nanobrow micellar water does not affect the natural pH of the skin. 
How does Nanobrow Micellar Makeup Remover work?
Nanobrow's gentle and effective micellar water for the face and eyes is the first step on the path to flawlessly clean skin. If you dream of perfectly cleansed skin with no imperfections, this micellar water is a brilliant choice. With this product, you will remove even waterproof makeup without rubbing the skin. This micellar water is for any skin type, even for demanding, problematic, dry or sensitive skin. It effectively removes dirt or excess sebum, does not dry the skin and intensively moisturizes it.
Nanobrow Micellar Makeup Remover – makeup removal and care with just one product
If you want not only to remove the makeup but also to care for the skin, Nanobrow Micellar Makeup Remover will surely meet your requirements. The perfectly designed formula effectively cleanses your skin while not affecting its hydrolipidic layer. Micelles combined with gentle substances nourish your skin and rid it of imperfections. This gentle micellar water for makeup removal refreshes the skin, leaving no sticky layer.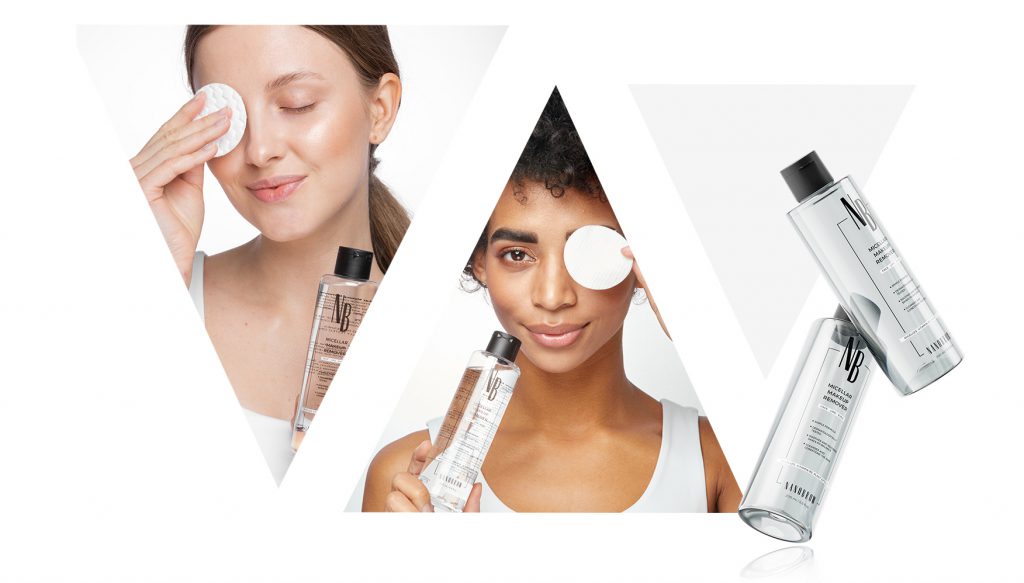 Micellar water for sensitive skin – composition of the product
The formula of Nanobrow's micellar water attracts dirt, makeup residues and dust – just like a magnet. The product makes your skin clean and perfectly cleansed. The effectiveness of this micellar water is possible thanks to the micelles that eliminate toxins and remove even the waterproof makeup. Nanobrow Micellar Makeup Remover also contains nourishing ingredients that are safe even for sensitive skin.
Niacinamide – brightens the skin, reduces discolouration and tightens pores, has an anti-inflammatory effect and minimizes acne.
Pomegranate extract – inhibits the ageing process, stimulates the production of collagen and elastin, supports the regeneration of skin cells and has an anti-inflammatory effect.
Aloe vera extract – moisturizes and provides relief to the skin, prevents skin irritation, slows the ageing process of the skin and protects it from harmful external factors.
Well-composed micellar water from Nanobrow – price, where to buy? 
Nanobrow's micellar water for the face and eyes is available on the website www.nanobrow.us. You can also find it in online stores and regular beautyr stores. The price is very attractive for such high quality and the best efficiency on the market.